A New Homes Structural Warranty can safeguard a home for the future. Cover protects the homeowner for any structural defects or water ingress that may occur within the first 10 years. 
Why house builders should consider FMB Insurance when it comes to taking out a New Homes Warranty:
Being a subsidiary of the Federation of Master Builders, we know the construction industry.
One point of contact – We are not a huge call centre. From the word go, you are assigned a personal representative and you will maintain that contact throughout your time with us, meaning a more personal level of service and not having to deal with different agents each time.
We don't exclude flat roofs, basements or modern methods of construction. Many policies omit these aspects and require further cover, which ends up expensive in the long run. In addition, we include reinstatement value for conversions.
We honour loyalty – we try wherever possible to be as competitive as possible for our members and repeat customers.
Our expert and qualified in-house surveyors have over 60 years of experience.
Our policies are underwritten by A+ rated insurer Everest Syndicate 2786, part of Lloyds of London.
Our underwriters are covered by the Financial Services Compensation Scheme.
Members receive discounts (although you don't have to be a member to insure with us)
Transparent pricing with no hidden fees.
When you buy through us, the profit made goes back into the trade association, which supports the member services that FMB provide.
We don't require customers to put money into an Escrow account.
We promote our customers on social media to showcase their work.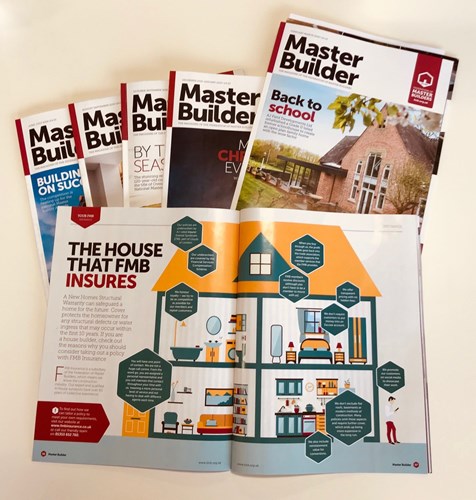 To find out how we can tailor a policy to meet your own requirements, visit the New Homes section of our website https://www.fmbinsurance.co.uk/insurance-products/new-homes-insurance-build-assure/ where you can also download our New Homes Warranty booklet. Or call our friendly team on 01353 652760.